AI Inspection
How Can AI-Based Damage Detection And Repair Enhance SMART Repair Networks? | Inspektlabs
Our discussion illustrates how SMART repair networks can benefit from incorporating AI-based estimations. Many customers already view SMART repair networks as their preferred choice when dealing with minor damages.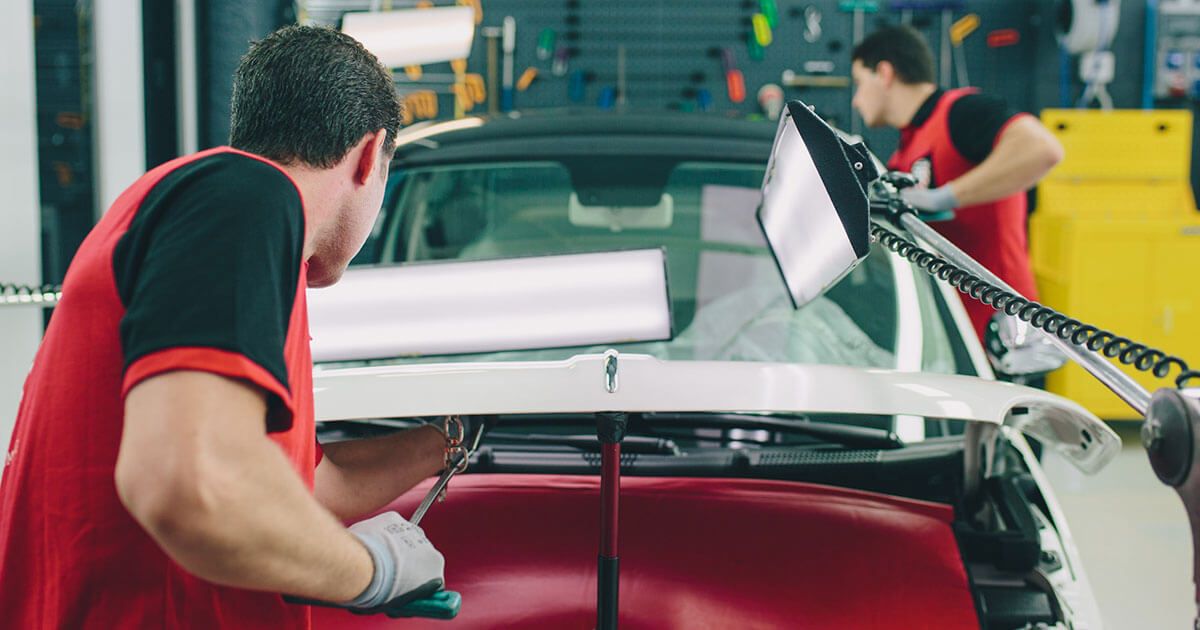 This post will discuss how AI base damage and repair can help SMART repair networks. We will begin by understanding the fundamentals of SMART repair networks and their role in the automotive industry. Then, we will cover companies' cost estimation in SMART repair networks. Before concluding, we will discuss the basics of AI-based damage and repair assessment and how it can impact SMART repair networks.
Introduction
SMART Repairs can save costs by repairing a small part of a damaged car rather than replacing or repairing the entire panel. This method is quicker and more affordable than traditional repairs. The costs depend on the amount of damage and the type of repair needed. AI and computer vision technologies are helping improve the flow of SMART repair networks by making them more efficient. Let us explore how SMART repair networks can benefit from AI-based damage and repair.
What is a SMART Repair?
SMART stands for Small Medium Area Repair Technology in the automotive sector. The SMART Repair system comprises different techniques that aim to repair the damage in the fastest possible time. These techniques are designed to work on small areas of damage and can often save hundreds of dollars. These techniques are also more convenient than traditional methods because the repairs are less expensive and are executable the same day.
SMART repair networks specialize in repairing minor car damages like scratches on the front bumper, a small dent on a door, etc. Typically, SMART repairs are non-insurance minor repairs on the car. For example, if the front bumper has paint damage, you may not want to make an insurance claim as you would lose out on the no-claim bonus. Instead, you would like to address and fix the damage without involving the insurer. SMART repairs do not cover cases wherein a part needs replacement.
SMART repairs can also repair minor defects and holes in your car's interior. For instance, they can repair holes in seat covers, trim, and the dashboard. A repair might take days or even weeks to complete in traditional repair methods, but SMART repairs require a few hours at most. There are several different types of SMART repairs, depending on the kind of damage to the car. For a dent on the paintwork, a SMART repair specialist can use a filler or respray to repair it. Repair shops can address minor marks or dents caused by hail damage through Paintless Dent Removal (PDR), a technique that removes the indentation without repainting. There are some similarities between PDR and SMART repair networks. However, SMART repair networks are broader, whereas PDR has limited usage.
You may come across companies like Dent Wizard, Your Mechanic, Scratch Master, Carotech Automotive, and many others in the U.S. that offer SMART repair. While companies may vary with their precise techniques, the broader methodology and approach remain the same. SMART repair uses advanced tools and materials to fix minor damages. This technique does not require the removal of the damaged panel, making SMART repair an excellent choice for minor cosmetic repairs. Because it is unnecessary to replace the entire car panel, SMART repairs can save you money by avoiding the high costs of conventional repair.
Cost Estimation for SMART Repair Networks
Unlike insurance repair, SMART repair typically doesn't require part numbers or part costs. A standard pricing matrix outlines the fixed repair cost based on the damage type. For example, consider the following repair matrix used by a European SMART repair company (Source: HBC system) –
| | | |
| --- | --- | --- |
| Repair Type | Repair Time (Estimated Minutes) | Repair Price (€) |
| Air Cleaning - Odour removal | 20 | €30-€60 |
| Alloy Wheel Repair | 30-60 | €70-€150 |
| Caravan Dent | 90 | € 500 |
| Dent Removal | 10 | €50-€80 |
| Fabric seats, carpets, headliner repair | 35 | €60-€150 |
| GlassCoat - Paint Protection | 60 | €190-€300 |
| Headlight Repairs | 30 | €50-€80 |
| Leather, vinyl, plastic, and trim repairs | 60 | €130-€300 |
| Spot Repair - hand size/less than one panel | 40 | €85-€300 |
| Windscreen - Stone chips/small cracks | 10 | €30-€50 |
As you can observe, typically, there is a flat rate for these repairs, which proves to be comparatively inexpensive and efficient compared to a traditional body shop repair. Inspektlabs currently assists SMART repair networks with a few significant operations such as paint repairs, alloy wheel repair, stone chip repair, dent repair, and touch-up & polish.
How Do AI-Based Damage And Repair Assessments Work?
AI-based damage and repair assessments work in two steps.
Step 1 - Damage Assessment With Exact Size And Location Of Each Damage
The digital vehicle inspection system utilizes artificial intelligence and computer vision to identify a car part and demarcate each damage's actual size and location. The size of damage estimation is possible by analyzing the relative size of the car's panel. For example, Inspektlabs' AI can determine the size of the damage in terms of its width, height, and depth.
Step 2 – Combining Damage Assessment With The Pricing Matrix To Generate An Estimate
Using a predetermined pricing metric provided by the SMART repair network, as illustrated above, the AI inspector can generate a repair estimate once it has determined the location and scope of the damage. The AI utilizes vehicle condition reports to create reliable and consistent repair estimations.
Impact of AI on SMART Repair Networks
Now that we know how AI operates within the SMART repair network framework, let us briefly consider its impact. It is essential to realize that technology is still developing and is bound to improve. As technology advances, we expect the framework to become more robust and reliable. Those who implement AI in their workflow are already reaping the rewards of this technology in SMART repair networks. The benefits of incorporating AI in SMART repair flows are:
Better Customer Experience
SMART repair companies incorporating AI can offer a better customer experience as the customer does not have to wait long to get a quotation. In traditional repairs, such as a body shop, customers typically wait in queues and often must schedule appointments ahead of time. This bottleneck arises because a conventional repair shop has limited staff, such as estimators and adjustors, who manually inspect the vehicles. Using digital vehicle inspections, customers can bypass this aspect of the process because they can capture photos and videos at the accident site and generate an instant repair estimate.
Quicker Lead Conversions
SMART repairers can close the inbound leads quicker when they incorporate AI. As stated above, the manual inspection process necessitates long waiting periods and scheduling. While they wait, customers approach multiple other repair shops for alternative quotes. Many repair shops lose countless leads due to these long waiting periods. If a SMART repair incorporates AI in its workflow, the quotation period is reduced to a few seconds, ensuring that the repair shop does not lose out on any leads. The turn-around time also goes down significantly, ensuring that repairers can cater to a broader set of customers in the same timeframe.
Eliminating Human Subjectivity
Incorporating AI in SMART repair networks eliminates any scope of human subjectivity. In many cases, manual assessors or adjustors give varying estimations. For example, there is a good chance that two assessors might generate a different estimate using the same photos. Many SMART repair networks operate using a franchisee model, making standardization even more difficult in the traditional approach. AI can solve this issue by standardizing the process since it will return the same result each time. When SMART repair networks can eliminate human subjectivity from the equation, they gain the consumers' trust. In traditional body shops, consumers often feel cheated and overpay for repairs or replacements. However, there is no scope for overcharging in an AI-standardized SMART repair network framework. This factor benefits repair shops equally because shops that offer AI-assisted SMART repairs will attract more customers. Furthermore, repair shops will no longer need to maintain large replacement part stocks, which can be a significant logistical and supply chain issue.
Promoting Sustainability
When car owners go through a seamless and efficient process using a SMART repair network, they can help prevent unnecessary usage of resources. For example, customers in a traditional body shop tend to go for panel replacements based on the mechanic's analysis. Panel replacements are expensive and contribute to the wastage of resources. On the contrary, SMART repair networks focus on repairing the parts instead of replacing them. Incorporating AI in SMART repair networks offers the added benefit of fueling an environmentally sustainable framework for damage repair. Customers place a premium on repairability. Repairability may not only influence customer purchasing behavior and increase a product's allure, but it can also open the door to a sustainable future. The Right to Repair is gaining popularity globally, and SMART repair networks are at the forefront of promoting sustainability.
Conclusion
Our discussion illustrates how SMART repair networks can benefit from incorporating AI-based estimations. Many customers already view SMART repair networks as their preferred choice when dealing with minor damages. By adding artificial intelligence and computer vision to the equation, SMART repairs have the potential to become every car owner's preferred approach.